In recent years technology has changed the way we deliver marketing, leading to the development of the Marketing Operations function and specialists. But what MOPs really does is still matter of debate. The role is certainly still developing.
At first glance, you might think that Marketing Operations appeared on the back of digital marketing and the technology around it. Or with the growth and importance of data. Or to understand customers over the growing number of touch points and channels. But these are all just small parts of what the function actually covers.
"Marketing Operations is the art and science of executing great marketing" Darrell Alfonso, Global Marketing Operations Manager, Amazon.
FSMarTech recently hosted a FSMarTech Leaders interview with Carlos Doughty, Chief Marketing Technologist & CEO / Founder of MarTech Alliance to discuss in depth the scope of the function, its role within an organisation and what the future holds.
Watch full interview by clicking on the image
X
What does Marketing Ops actually do?
In his words, a good marketing operations specialist takes a CMO's strategy and vision, and brings it to life. They are the 'doers' that turn dreams and aspirations into action.
The core pillars of the role could be summarised to:
1) MarTech Management
From vendor selection, to implementation and configuration, MOPs manage the marketing stack, keeping it healthy and making sure tools are integrated and efficient.
2) Campaign Management
MOPs support the execution of marketing campaigns by orchestrating the campaign workflow and by ensuring that marketing process and tech are effective and efficient.
3) Reporting, analytics and attribution
MOPs will collect, analyse and provide data that shows what is, and isn't, working, if the team is using the right technology, and if they are making the most out of it.
4) Budget Management
Monitoring campaign and martech budgets, MOPs will make sure that everything is on budget and accounted for.
5) Training and support
MOPs should be involved in training new and existing colleagues to enable marketers to do more with the technology at their disposal.
"Marketing Operations are essentially democratising the use of technology, so that less tech-savvy marketers can move with speed and make things happen as well." Carlos Doughty, MarTech Alliance
X
How can Marketing Operations benefit your organisation?
In essence, having a marketing operations function can drastically improve efficiency and effectiveness.
It will create workflows that enable the marketing team to get better results in less time. Marketing Operations will contribute by increasing ROI, making sure that budget is spent effectively on campaign and channels that bring the desired business outcomes.
Finally, choosing and managing technology to improve campaign and data management, can ultimately deliver a better customer experience.
A strong marketing operations function has the potential to become the nucleus of the company, where people, processes, metrics and goals are brought into alignment.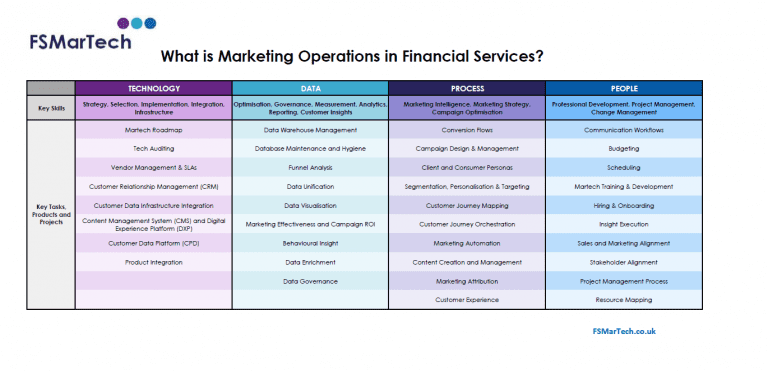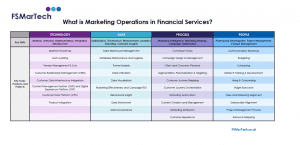 One size will not fit all. Depending on the size of your organisation and the resources at hand, the function can sit with different teams. Such an involvement in technology and processes means it can fall under the remit of the CTO or CIO. But most Marketing Operations specialists agree that it should be part of the marketing team.
Those with small marketing teams may find an individual falls into the role because of their aptitude to process, technology and automation.
Teams of one are developing MOPs skills as part of their broad marketing knowledge.
MOPs speak both the marketing and tech lingo. A crucial part of the role is to bridge the gap between the technical and strategic elements. CTOs and CIOs often focus on infrastructure security risk management, while marketing prioritise revenue and customer experience. Marketing Operations is the function that can balance them out.
X

X
The Future of Marketing Operations
At FSMarTech, we believe that CMOs with technical and analytical skills are making an impact at Board level – they can answer the data-driven questions most relevant to senior management.
We also believe that those with broad marketing operations knowledge will move from the advisor role into CMO.
The function will be crucial in supporting the CMO, building a foundation for excellence, reinforcing marketing strategy with metrics, process, infrastructure, and best practice. A marketing operations professional will not only be required to create dashboards and provide data, they will be expected to translate that data into insights and to relate these insights back to the CMO's strategy and vision.
It's an exciting time to be in marketing operations.
X